Baby gift ideas suggested by visitors
Buy a cross stitch pack and make a personalised pattern of the baby's name, when they were born and how much they weighed.

Design a personalised blanket for the baby, once the baby has grown out of it you can frame the personalised section.

Create an email address for them and email them with photos and videos throughout their life

Buy a 3D Baby casting kit for moulding the shape of the babies hand and foot

Write a poem for the baby, then print it out and frame it.
We recently launched our sister website 'Due Date Countdown'...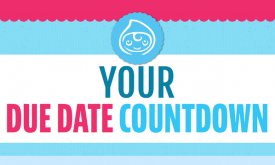 Read more
I enjoy walking through the countryside and walking my dogs. Since...

Read more
Gift finder
If you are stuck for
baby gift ideas
then try out 'Seek Gifts', our very own gift finder.
Gift finder
Sign up for deals newsletter
Baby Gifts & Presents
Hello,
I'm Anna and in early 2012 I became a mother to a beautiful baby girl. I used to search the internet endlessly for the best baby products and was unable to find somewhere that listed everything from baby essentials to baby gifts.
I decided to create my own baby product website to show case the latest, trendiest and my favourite newborn and toddler products from retailers all over the internet. The items are handpicked by me and regularly updated.
I had many gifts bought for Emily and I have purchased many baby products myself, some were useful some were not. I thought it would be a great idea to tell you about some of these fantastic products and point you in the direction of stores where you can purchase them from.
Some of my favourite baby stores at the moment are Early Learning Centre, Mothercare and TheToyShop.com so you will certainly find a lot of their products on our site.
I hope you find my website useful and remember you can follow me on Twitter.
Anna x